News
GBR: Updates
Still working on the new tools. They are not ready for prime time yet but I have them flushed out enough that I don't mind going into deeper details. For the Cuusoo searchers I am looking into developing new project presentations orders. For the Cuusoo creators I am working on a site that will help to demonstrate your projects progress to 10,000 as well as create an interface that will allow yourself and fans to generate widgets that will monitor and promote your project in an easy, convenient manner. This is all pre-Beta and I have to make sure that the Lego Group is on board each step of the way so this takes time.
My ideas don't stop there though but I one person trying to balance a whole lot of development so please be patient.
---
Crowd funded
Metal Minifigs
Johnathan Brady has designed and fabricated Metal Minifigures but now he is trying to take the production to a new, repeatable level by creating molds and funding the first run of functional, metal minifigs with his project:
The buy in is a bit pricy with the minimum pledge being $475 to get a silver posable figure with the highest pledge option being $9500 for a platinum figure.
The Swiss Army Knife of Key "Rings"
This is a great example of a simple idea done right, which is great for Kickstarter,
SmartKey.
At its core this product is two metal plates held together with bolts. You just unscrew the bolts, add your keys and screw it back together.
The keys can be pulled out and put back just like a Swiss army knife.
The form of the plates organizes the keys in a very tight package while also eliminating the noise from clinking keys and eliminating the "poke" factor that occurs when you shove a key chain in your pocket.
All in all an ideal Kickstarter project. It is a great idea relying on a simple mechanism to address a specific problem.
Sky Pirate Double Feature.
I have always loved the idea of boats sailing the sky. There are two very fun projects sky pirate. Now these are kind of steampunk but they are both also a bit of fantasy.
Lady Sabre & The Pirates of the Ineffable Aether Vol. 1
is a high quality web comic that has been produced since July of 2011. It is written by the Eisner winners Greg Rucka and Rick Burchett. This Kickstarter is intended to generate the funds to collect the work into print.
It is an great series for anyone who loves privateers, cowboys, conspiracy, steampunk, and a touch of magic.
There is a bit of a double edged sword with this project though. Since the point of this project is to collect the web content into a printed book....well, you can read the online content and know exactly what you are getting. Of course this does mean that on some level you are paying for something you can get for free.
If you read the whole thing and like it, but can't bring yourself to pay for something you can get for free, please consider putting a buck in the tip jar ($1 pledge).
In the game you can perform quests, find allies, upgrade your ship, cast spells, perform maneuvers, defeat monsters, and fight other players.
The game varies each time by changing the core quest, the flagships used, and captains selected. On top of all that the game comes with an awesome set of airship figures.
---
Threadless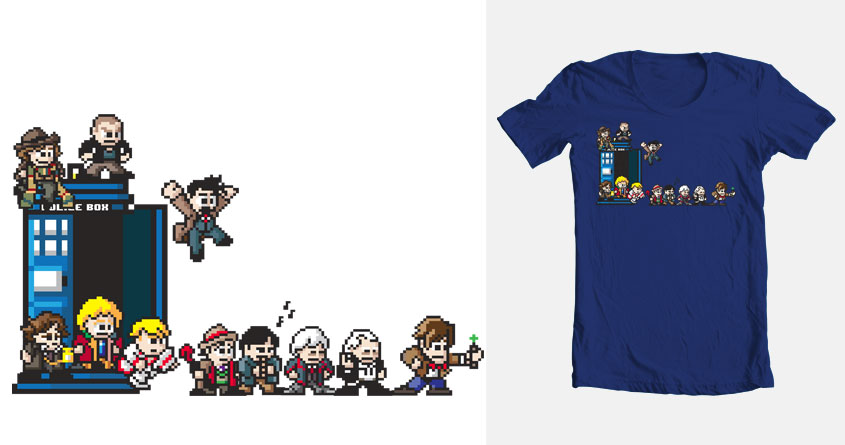 ---
Cuusoo
Pick of the Week
Star Wars Bounty Hunters in Bust format
by Omarovalle
If you ever get the chance to hear a Lego designer talk at a Con I really recommend it. Sometimes they say things that are pretty obvious but you never really put into words. One of the things they will tell you is that Lego does not like to repeat itself with the exception of certain "evergreen" concepts. They will repeat the content of the City theme every few years for instance. Another evergreen are the core ships in Star Wars. For as long as Star Wars and Lego are together, every few years they will release an X-wing and a Tie fighter. Although Star Wars is extremely popular on Cuusoo the majority of the projects are personalized versions of Core Star Wars ships that Lego will likely produce twice over in the time it takes for the Cuusoo set to reach 10,000 twice over.
This redundant exploration of the core vehicles and scenes are so tiresome that I always take note when someone takes Cuusoo's "fresh ideas" approach with Star Wars. This project certainly fits that bill. Lego has done "statues" but not busts. This dodges the Hasbro action figure issue and the scale of display issue that a full statue would present.
This concept is brilliantly novel and skillfully executed with education construction. Boosk, the Trandosian is my favorite of the series.
Honorable Mentions
Old bangle (1935)
by Vean
Vintage cars! I probably sound like a broken record on this but I think vintage cars have a solid shot at getting produced. They have a lot of appeal and yet don't show up in the standard catalog very often. This is a great design even without the doors.
I must say that doors are one of the most difficult aspects of designing minifig scale cars. It is sometimes impossible to use the door elements, and then you are stuck with snotted plates & tile or a full brick. Then you have the difficulty of widening the car or reducing the number of figures in the car. If you don't believe me, try it yourself, its more difficult than you think. I would not have thought to totally get rid of the doors, but with this design it actually works.
If you really like the design,
Vean
has been kind enough to share it on his project, so go check it out.
Tractor with butterfly grass mower
by 896gerard
This is a lot of astounding features revealed in the video that is hidden at the bottom of the project. I provide it here for your convenience:
Video of Lego Tractor
. The attachments actually fold up, "like a butterfly" but still have technic gears delivering power to elements in the attachments. Very very clever.
---
Notables
I am having a spot of difficulty balancing write ups and doing some new coding for Cuusoo tools, so in the time being I am going to stop giving write ups on these notable projects. If you have overlooked these projects I suggest you give them a second chance.
---
Week of Cuusoo
What follows the bump is the showcase of all projects that came out this week.
Milwaukee Art Museum: Santiago Calatrava's Quadracci Pavilion
by Luishernand1
L.M.I.R. - Roman Bath with Aqueduct
by Bigboy99899
Star Wars Bounty Hunters in Bust format
by Omarovalle