GBR News 
New Pages!
Well,
here they are
, four pages to enhance how you interact with Cuusoo. 
Daily shows you the top supporter project for the previous day and a table that shows each of the projects previous two days of support.
Weekly shows you last seven days of support for projects.
Latest Projects shows you the most recently published projects sorted by support descending.
Top New Projects  shows the best performing of the very most recent projects and the top 15 of the latest 54.  This is intended to show you the real cream of the crop and limit your exposure to the lower supported projects while allowing you to see the newest projects coming to Cuusoo. 
It is all in Beta but it should be functional.  I got some more stuff planned for the future.
New Project: Lady Sabre and Pirates of the Ineffable Aether
Yes another one.  This is a ship from the Web comic: Lady Sabre and Pirates of the Ineffable Aether.  If you have been reading the blog at all you will likely recognize it.  If not, well its space fantasy-ish.  I think I pulled of the figurehead pretty well. 
You can get a better look here
. 
General News
Nick Royer Returns to Cuusoo with Pulp Adventure
Hyperborea
by NickRoyer
Nick Royer was made famous on Cuusoo with his project "
Space Troopers
."  It was one of the few to reach 10,000 using totally new IP and that is no small feet indeed when it comes to Cuusoo.  Now he has released his second project and WOW, does it look fun.
Much like Space Troopers this project is playing out like a theme, but this one is based on pulp action instead of space adventures.
Here is Royer's own intorduction to the project:
An exciting new theme or mini-theme of Lego adventure: Hyperborea! Following the adventures of an expedition sent to explore the newly-discovered hollow world inside Earth, Hyperborea chronicles a variety of eccentric adventurerers in an alternate-history, steampunk world. They face a variety of challenges and mysteries, including the sightless dinosaurs of Lower Hyperborea, and the powerful and mystifying Illuminati, an ancient organization obsessed with building pyramids.
Personally I love pulp adventure so I am very excited to see this project, especially with Royer's quality designs.  
---
Crowd funded
New 'Lego' Tank Treads
The expert Lego crafters at Brickmania are now launching a new part via Kickstarter:
Tank Treads
. 
This element is a simple variation on the existing Lego chain element but with an actual tread on it.  They are also hoping to produce a double wide version.
This is a pretty brilliant move on their part as Tanks are pretty much Brickmania's bread and butter.
It looks like Brickmania is ready to move on these too because $13 will get you 100 double wide links with a shipping date of July 2013!  
Girl Genius Volume 12
If you like Lego which is probably true if you come here (even though I am talking about Crowd stuff now too) then you should probably also be reading
Girl Genius
.  It has the zany energy and creativity that I find to be common in maturing FOLs.  On top of that it has won three Hugos for crying out loud.  On top of that
it is free
!
My fandom of the Girl Genius goes all the way back to when there were a printed comic but they have long since passed on that model.  Now they publish on the web and occasionally print in trades. 
Their current Kickstarter is to get the funds to
publish Volume 12
of the series.  They are fully funded and have printed before so this is a no-risk kickstarter.
If you have not been reading Girl Genius, check it out, but only if you like great art, crazy pulp adventure, mad science, militant cats, maniacal computers, love triangles, clockwork contraptions,  and girl geniuses.
If you have been reading Girl Genius and are not planning on getting a physcial copy of volume 12, please consider one of the $1 to $10 donations.  Consider how much enjoyment you have gotten out of Kaja and Phil's exploits over the years and...tip them what they are worth.
---
Threadless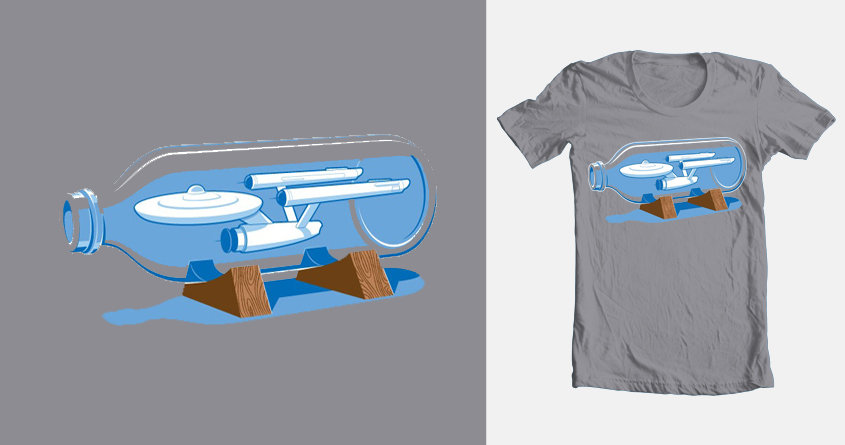 ---
---
Cuusoo
---
Pick of the Week
Microscale Hogwarts
by Earthdogjon
Support Level: 63
Here is a great example of repeating a theme but presenting something attractive and new when you do it.    This is the third Micro Hogwarts and by far the smallest.  Even though it is so limited in scale though, it is instantly recognizable with features like the quidditch field and the strange towers that go off into the sky.   Of the three micro Hogwarts I think this one strikes the best combination of scale (thus cost and displayability) and features. 
The inclusion of the light brick really adds a lot of charm.
I do wonder why the quidditch  field is missing a whole set of goals though. 
Honorable Mentions
Micro Galaxy Explorer μ928
by Wolf.leews
Support Level: 26
I think these kind of homage sets are going to become more and more present in Cuusoo as time goes on.  Not sure how the masses would react to them but I would personally love to get quality micro version of all my childhood sets. 
UCS Speeder Bike
by Johngreenart
Support Level: 23
This is a great idea:  A UCS of a subject so small that it is still viable from a price and displayability perspective even at a "large" scale.  Not to mention that I doubt that a speeker bike will get picked any time soon for the traditional Star Wars UCS series as it is just too small.   
Minifig Carnival Flight
by Toin
Support Level: 19
Although huge, this is a really fun way to use a lot of small aircraft sets and  MOCs.
Notables
Iron man Hall of Armor
by Squareff7
Support Level:
50
Another one?  Really?  This is like the seventh one.  They all look the same too.  Business wise Lego is not going to sell seven Iron Men in one set without it costing pretty much the same price as buying seven different Lego sets. 
L.M.I.R. - Roman Barracks
by Bigboy99899
Support Level:
50
Very impressive and educational.
Middle Ages Village
by Robin.rock
Support Level:
42
Certainly a quality and respectable MOC.  I fear that it does not have enough "pizazz" to get much further though. 
de Havilland DH.88 Comet
by Skypilot22
Support Level:
39
These look like they would be a lot of fun to swoosh around.
Star Wars Battlefront Pack - Republic
by Thenerd
Support Level:
39
A fantastic MOC.  However the last Battlefront was released in 2009.  Based on my difficulty with getting support for a Expanded Universe build with an active online community I have serious doubts for any Expanded Universe Cuusoo projects.  There is however rumors that a new Battlefront may be in the cards with the new organization going on in the Star Wars properties.
Microfigure Star Wars
by Windfire
Support Level:
36
Really fantastic Microscaled Walker! 
Workplace
by Toin
Support Level:
19
A gorgeous little building.  This project needs to do a better job selling itself though. 
Clone tank with dropship
by Jbb_777
Support Level:
18
Technically impressive but to my knowledge it is a "Star Wars" project with non canon vehicles.  I always assume these are doomed out of the gate.  Could be wrong but I just can't imagine them getting licensed.
Pokemon
by Irule
Support Level:
17
some great PokeMOCs and the ball looks great but way to many parts are used.  There is a mention of putting the Pokemon in the ball but that seems impractical based on the scale of the MOCs and the viable internal volume of the ball.  i.e. I will believe it when I see it. 
The Cube Tree
by B.bokslag
Support Level:
14
Pretty and very clever but the part count relative to likely demand is a non-starter imo.
ThunderCats: ThunderTank
by Afallendevil
Support Level:
14
Instantly recognizable to any fan of the Thundercats.  However, based on the lackluster performance of the Thundercat relaunch, I doubt we will see any Thundcat Legos any time soon. 
-the Johnny Test Project-
by Nightwing20
Support Level:
12
A pretty cool set but one that goes a bit overboard.  When you make a set based on an IP try to capture its essence rather than replicate every single aspect of the show in one oversized over dramatic set.  
Sender Club Car
by 4567
Support Level:
10
This is a fun little buggy and well designed, but I just can't see a large scale audience for it.
Remembrance Day Poppy
by Smidsy
Support Level:
8
Absolutely no disrespect but personally I don't really see a button made of Lego as being a great way to "remember those soldiers who died in war."  This is also a project that dictates that
all
profits go to a third part, so that is pretty much a non-starter in my opinion.
Armored Assault Tank (AAT)
by Finnmertens
Support Level:
24
The nature of the AAT makes it a Star Wars evergreen.  It is the prefect scale for a set and plays well with the "first" three movies and the Clone Wars.   Regardless of how good one of these projects is, they will be constantly outpaced by Lego's regular releases.  This issue is even more pronounced with the Tie Fighter variants. 
Iron Patriot Minifigure Set
by Nichels
Support Level:
76

This is a campaign to overturn a exclusive polybag deal with Walmart.  This will not happen.  It is just like the Western sets versus the Lone Ranger.  Existing contracts trump Cuusoo project in every way, every time.   
---
Week of Cuusoo
What follows is a showcase of the last week of Cuusoo projects