I am playing with the format of this blog, if you have a comment about the changes, feel free to post them.
Cuusoo News
10k Achievement Imminent
Mini Shop Series
by Pekko is about 200 support away from 10k. They should reach 10,000 in the next few days one way or another.
The quality of the builds is this project are outstanding great and the scale is fantastic. Each of them is a great representation of the establishment.
I must say though that the handling of this project by Cuusoo has been my only true complaint about their system. I have long since accepted that people will present a series of concepts in a single projects and I fully accept that now. I actually see this a healthy for projects as it keeps fans and project creators engaged over the long period of time it takes to reach 10k and allows for the best concepts to be tested on the public. For example
Space Troopers
showed a variety of different sets themed on the trooper concept.
I feel this set crosses a line though in its use of multiple, divergent licensed properties. I could see supporters of Space Troopers not being absolutely thrilled with the set that Lego might come out with but being satisfied that it had Red Space Troopers in it. This project however showcases a variety of different Licensed establishments with only the format being the same (and the fact that four of the six sell coffee). I am really curious how many people are supporting the project for a specific store that will not be satisfied with another. What is the fan crossover between Mac, Lego Store, McDonalds, 7-11, Starbucks, and Dunkin' Donuts? Will the Mac Store supporter be satisfied with a 7-11?
I seriously doubt that it is the concept of a generic storefront that is driving most of the support for this project. There is a poll in the project's comments that gives us the closest thing to a clue in this regard:
Starbucks: 19 (37% of total voting )
7-11: 8
Dunkin donuts: 8
Lego store: 7
McDonalds: 6
Apple store: 3
I realize this is not a random subset of the supporters nor is it a statistically large sample, but doing a bit of stretch we could conclude from this that, if it
was
a reflection of the support base, then a "Starbucks shop" project would only have about 3700 of these 10,000 votes. Even if we assume that 33% of the fans for each of the other establishments would support the Starbucks as well, that only gets a total of 5700 support.
I am not saying this is wrong, Lego Cuusoo is the only one who can decide what is "wrong." I guess what I am really saying that despite my personal views on the matter, this appears to be a successful way to get to the review phase.
Brent Waller
could have apparently gotten one of their projects to 10k already if they would have published their
Batman Tumbler
(8800+) and
Ghostbusters
(2200+) projects as a single project, like "Cinematic Vehicles."
The proof in the pudding will be if it passes review though.
League of Legends reporting in
Lego project
and are supporting it in droves. The community is quite well connected and very active on the internet so they could take it all the way.
In fact they have over 10,000 active fans on Reddit at any moment out of 250,000 subreddit subscribers...so yeah, they got the numbers.
Kickstarter
Useful Tech
Android Tablets and Smartphones
.
At $12 it is a real bargain in my book as it multiplies the utility of devices and extends their useful lifespan.
I have made usb card readers before, they are not crazy science so these guys should be able to deliver given the software is there, and they have already proved that out. I think the only real issue is their expected delivery date, July 2013! That means they expect to have 3k+ units produced and shipped within 3 months of the end of the Kickstarter...that is a pretty tight schedule for a physical product. In productions a lot of things can go wrong that you don't have any control over...but that will just mean a delay in shipping, not the end of the world.
Closing Soon
Small World 2
Kickstarter will be ending in a little more than 24 hours. The game is proven on the tabletop and you can still get it at a great price for a great price on the Ipad, Android, or PC at a great price.
This project excites me not only because of my love of Veronica Mars but the actual concept of fans proving the market to the powers that be. Who knows, in the future, shows that are on the bubble might start kickstarters to get crowd funded for future seasons?
Threadless
Threadless has recently started a Hulk and Fantastic Four challenge (not on the same shirt though). Being a Marvel fan I am looking forward to what comes of this.
Design Pick
Inner Joy
by
buko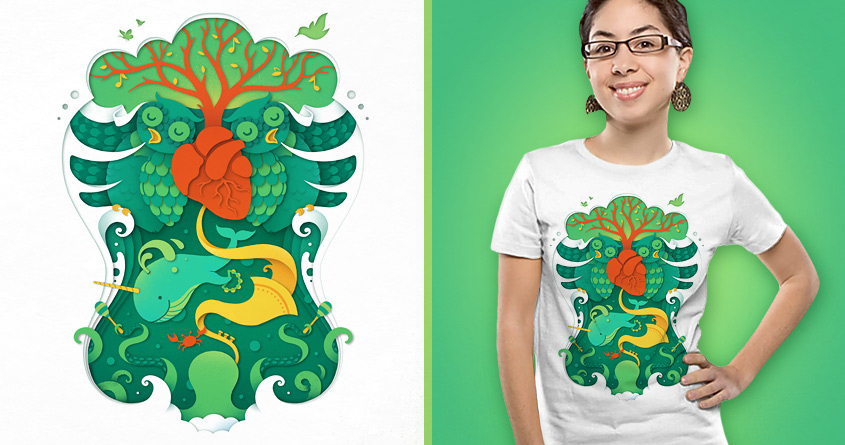 I like the metaphorical aspect of this design right off the bat. Without being too blunt (excluding the heart) it portrays the "inside" of the person with an eye to the fantastic: the owls for lungs, the whale for a liver, and the horn and octopus for intestines. Quite clever indeed.
Th
e play of the foreground and background is also artistically done
.
Shirt Pick (Review by Gensior)
Weekly Cuusoo
---
Pick of the Week
Grand Prix Race Cars from 1934
by Bigboy99899
I have said it before and I will say it again, vintage cars are way underutilized in Lego. Sure, kids are more drawn to modern vehicles, apparently, for most people it takes a few years to appreciate the older designs.
Each of these cars are very unique as far as existing Lego sets as well as being accurate and distinguishable representations of their source vehicles: Alfa Romeo P3 (red), Auto Union Type A (left silver ), Mercedes W25 (right silver) and Bugatti Type 59 (blue).
Bigboy99899
is quickly becoming one of my favorite Cuusoo designers.
Honorable Mentions
New England Fishing Village
by Mmbace
This is a stunning Microbuild. The fact it only has 10 support is a sin. It was a hard decision between this and the
Grand Prix Race Cars from 1934
for pick of the week. In the end I decided the Grand Prix Race Cars were a little more accessible. This has the Grand Prix beat on pure quality of build though and if I got to pick one of these MOCs to have, as is, personally I would choose this one.
Padme's Apartment Balcony
by Jessebranch
This build is really beautiful. I love it even without any association with Star Wars. The build melds classical Romanesque elements with the fantastic.
Jessebranch
addresses many design challenges with the curvature of the setting quite well.
Indiana Jones and the Map Room at Tanis (from Raiders)
by Therealindy
I like the concept of this project, and I like the MOC, but I am not sure about the two together. If you compare film footage of the Map Room to the MOC, you can see that not only is the scale totally out of wack, but that this depiction diverges significantly from the Map Room. That being said, I really love the MOC, and though I can't see the palm trees in the movie but they are brilliant! That headgear, on top of a the cones looks exactly like a palm tree...genius!
This discontinuity is in fact intentional.
Therealindy
is attempting to create a realistic presentation of what it may have really looked like. This makes the projects a bit of an odd duck. Are the people supporting a "real" Tanis or are they supporting the scene from the movie?
That being said, I like the MOC and I like the scene from the movie and I would be happy with either. If the scale were to remain as depicted though, I would want a macro-figure Indy.
Operation: Steam Knights - Lady Gladiator
by Pittstop
Pittstop
keeps expanding on these quality designs for gear-punk suits. I have learned my lesson in not calling this kind of stuff Steam Punk as, in review and engagement with hardcore Steam Punk aficionados, true Steam Punk is rooted in the Victorian or near Victorian eras. Regardless of how you classify it though, I think Pittstop's concepts are getting better and better.
The designs to make me more and more curious about how well such interconnects would stand up the the punishments of real world building. I will have to check it out for myself.
FORD GT GULF
by Soltag78
Soltag78
manages to fit a ton of features into this car. I recommend to check out what is under the hood!
Smiley Skull Rock
by Jwg258
A nice little set. I like the idea of a tiny island that is a small little stockpile for a some pirates. Lot of potential here for a quaint set.
Palazzo Madama, Turin, Piemont - ITALY
by Lucac.
The
Palazzo Madama
is a beautiful building and this MOC demonstrates that justice can be done to its design at legitimate scales.
Notables
legend of Zelda Skyward Sword
by Brickcluster
This is a lot of works, and looks like a fantastic MOC, it is way too busy though. I can't appreciate the details because their is way too much content. I would recommend launching several smaller projects.
SaturnV launch pad
by Bigboy99899
Another beautiful MOC, but the build is dominated by a giant very repeating red structure. Accurate? Sure, but most of the "visicality" of it is 12 repeating red floors. Not very inspirational.
The Infinitely Modular Classical Temple Building Set
by Therealindy
Note: This review has been updated based on feedback from the creator. I always welcome feedback. Please use the comments section if you have any.
This is a gorgeous MOC, certainly a work of art. The concept is however out of proportion with anything Cuusoo has generated to date. That is not to say that it won't get produced, just saying that the concept is a bit...out of the box...but that IS what Cuusoo is FOR so best of luck.
Now projects of these scale are always hard to price. The
Therealindy
lists the set as 3200 parts and 24 figs. The general model is $0.10 per element. This would put the set at $320 if you discount the figs. It is true though that as sets scale up the ratio scales down.
The Tower Bridge is the best recent example coming in at 4287 parts for $240
. But that is an extreme case with many small parts is low variation in type and color (500 are tan cheese wedges) and it has absolutely not figures. A complication of reduction due to scale for this project is its intent for versatility. This usually will prevent the use of economic parts in exchange for versatile ones. Therealindy's own estimates are $250 to $300. Another model, perhaps the most accurate is based on figures. Figures are the most expensive elements that Lego produces in scale.
With figures the closest approximation to this set is the Lego Star Wars Super Star Destroyer Excecutor. It has 3152 pieces and 5 figures. This set costs $400 which would include some licensing fees to Star Wars but has a quarter of the figures.
The concept of rebuilding the set into games is an interesting one, but I am not going to put down $300-$400 for a set just to tear it apart and play chess, nor do I have much interest in constantly disassembling and resembling different configurations each time I want to play a different game.
If you do like this project you will also want to check out
Extra Sets for Infinitely Modular Classical Temple Building
as well. I find them very impressive as well but the project does propagate the misunderstanding that a single single project can result in multiple Cuusoo products.
On a total side note, I do wonder what is meant by projects that point out that they are modular. EVERY Lego set is modular...it is kind of the whole point of Lego.
The Alchemist's Lair
by Brox.p
This is a good looking set but the playability seems pretty low. Any time the Alchemist is working, he is facing one of the walls. I would rather see a collection of benches than this rigid contruction
Operation: Steam Knights - Minotaur
by Pittstop
This look like a lot of fun.
---
Week of Cuusoo
This week the cut off was at support.
Grand Prix Race Cars from 1934
by Bigboy99899
Also my pick of the week, see above.
legend of Zelda Skyward Sword
by Brickcluster
Too much content, see above.
Batman 2 Seater Tumbler
by Buggyirk
Another Tumbler? Come on Guys? This is fantastic but seriously, this is number 16! It does have a nice bat signal though....